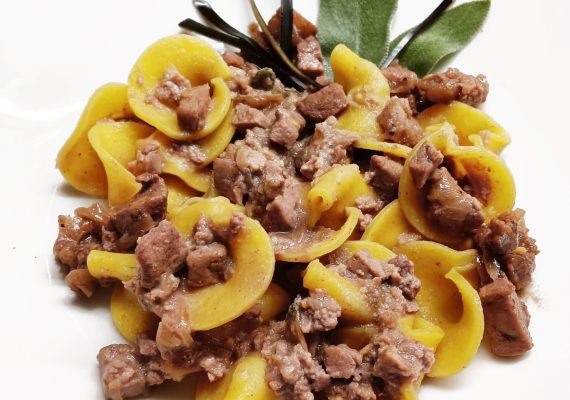 Egg imbutini in liver sauce
Ingredients
400 g egg imbutini
350 g pig liver
150 g aubergine
1 white onion
70 g butter
Extra virgin olive oil
Salt
Pepper
4 leaves of sage
Parmesan cheese 100 ml red wine
Recipe
Wash the liver well with cold water, eliminating all the blood and drying it thoroughly with kitchen paper.
Chop the liver into chunks (this must be done using a knife) to maintain the consistency of the meat.
Shred the sage and onion.
Pan-fry the onion using 30 g of butter and add the liver.
Deglaze with the wine, add the shredded sage and onion and, lastly, the pepper.
Peel the aubergines and dice them. Pan-fry the diced aubergines in olive oil.
The sauce needs to remain soft, so add the remaining butter and, if necessary, a little cooking water. When the imbutini are cooked, transfer them to the pan containing the sauce so they absorb all the flavours. Lastly, add the aubergines.
Serve with a sprinkling of grated Parmesan cheese.
Did you like the recipe? Share it…