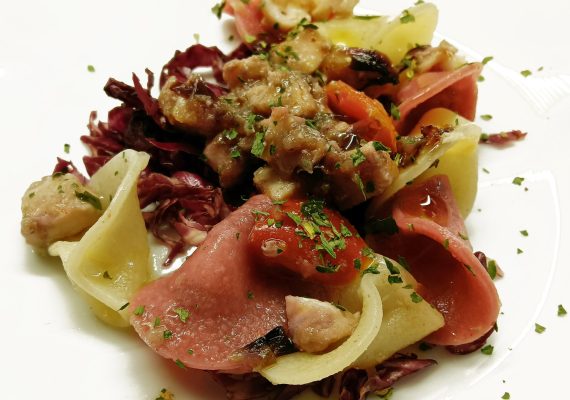 Beet semola imbutini with radicchio and swordfish
Ingredients
400 g yellow and red semolina imbutini
300 g natural swordfish
200 g red Chioggia radicchio
5-6 tomatoes
50 g shallot
1 spoonful of fresh parsley
1 spoonful of oregano
Extra virgin olive oil
Salt
Pepper
Chilli pepper
Recipe
Wash the red radicchio and cut it into thin strips.
Slice the shallot finely.
Cut the cherry tomatoes into small chunks
Dice the swordfish (about 1-2 cm).
Sauté the shallot over a medium flame and add the radicchio, stirring it in to add flavour.
Add the tomatoes, salt and simmer for about 5 minutes.
Take a pan, add the diced swordfish and sauté with a little oil, salt, pepper, chilli (optional) and a generous dose of oregano and parsley.
Cook the imbutini in salted water until al dente and drain them. Place the imbutini in the pan containing the radicchio and cherry tomatoes.
Lastly, add the swordfish.
Mix everything over a medium flame for about a minute.
Did you like the recipe? Share it…