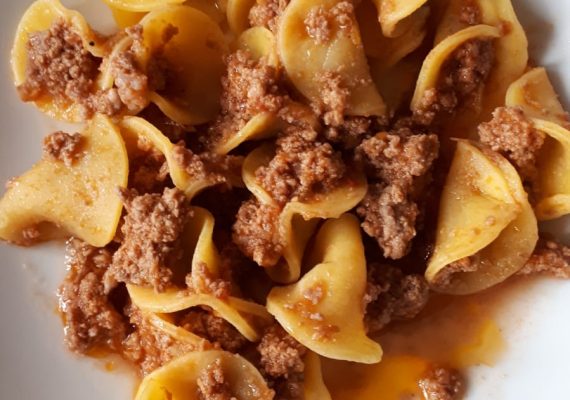 Imbutini with my homemade ragù
Ingredients
400 g egg imbutini
150 g sausage
250 g pork loin
350 g beef muscle
400 g tomato passata
1 small onion
1 small carrot
half a stick of celery
1 glass of dry white wine
2 spoonfuls of tomato purée
Extra virgin olive oil
Rock salt
Pepper
1 glass of water
Recipe
Chop up the celery stalk, carrot and onion and sauté all the vegetables until cooked.
Add all the minced meat and brown for a few minutes, stirring.
Deglaze everything with a glass of dry white wine.
Once the alcohol in the wine has evaporated, add the tomato passata and purée, salt, pepper and, lastly, a sprinkling of water over the ragù.
Cook on a very low flame for about 2.5/3 hours.
Using a large pot, cook the imbutini in salted boiling water as per the instructions on the package.
When cooked, drain them and season with the ragù.
Did you like the recipe? Share it…