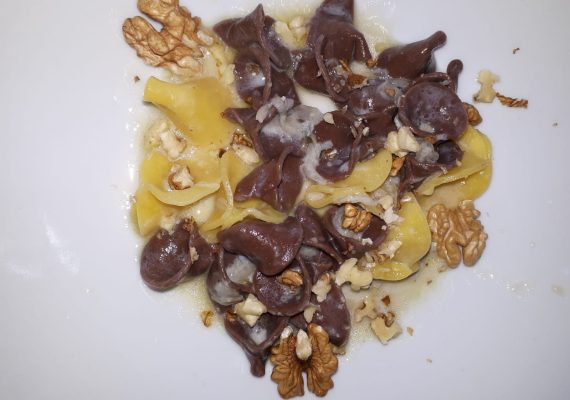 Black imbutini with gorgonzola and walnuts
Ingredients
300 g. of egg imbutini
(replace 30 or 40 g of traditional egg imbutini with dark imbutini according to preference)
150 g gorgonzola
40 g of roughly chopped walnuts
n. 2 spoonful of extra virgin olive oil
1 onion
1 clove of garlic
10 cc of white wine
Salt
Pepper
Recipe
Pour some extra virgin olive oil into a pan and add the finely chopped onion and the crushed garlic clove.
Brown over a medium flame, add salt and then flavour with the wine.
Remove the garlic from the pan.
Add the gorgonzola. Mix it in to obtain a creamy mixture.
Using a large pot, cook the imbutini in salted boiling water as per the instructions on the package.
Drain them al dente and add them to the pan with the gorgonzola cream.
Add a generous sprinkling of pepper and a few tablespoons of cooking water.
Serve, garnishing with the chopped walnuts. To make the dish even more appealing, add a handful of egg imbutini.
A decorative effect the diners will love!
Did you like the recipe? Share it…