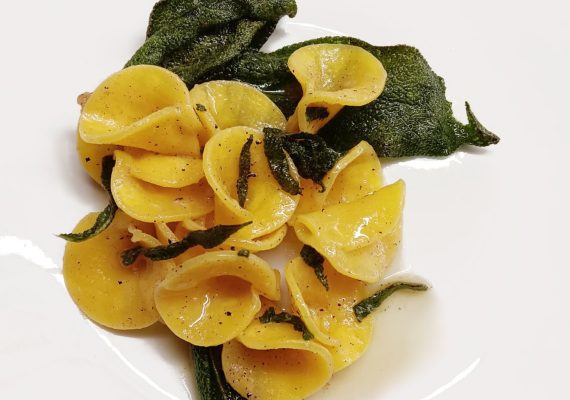 Egg imbutini with butter and sage
Ingredients
400 g of egg imbutini
n. 20 large sage leaves
40 g grated Pecorino romano cheese
50 g butter
Salt
Pepper (optional)
Recipe
Using a large saucepan, cook the imbutini in boiling salted water as per the instructions on the package.
Melt the butter in a saucepan over a medium flame.
Add 8 whole sage leaves and cut the rest into strips. Brown the sage and make it crispy: be careful not to scorch the butter.
Remove the now-crunchy sage and set it aside.
Let the butter cool in the pan, add half a ladle of cooking water and add in the pecorino romano cheese to obtain a creamy mixture.
Once the imbutini are cooked, add them to the butter, sage and pecorino cream.
Mix everything together, adding in pepper (optional).
If necessary, add a little cooking water to enhance the creaminess. Serve, decorating the dish with a few strips of browned sage.
Did you like the recipe? Share it…